About The Crab Feed
Our annual Crab Feed is a great time! Tickets are ONLY $50/each and includes:
All-you-can-eat salad, antipasto, pasta and of course… fresh, cracked crab!
No Host Cocktails, including the fine brews of American River Brewing Company
Raffle, Silent Auction & Delightful Dessert Silent Auction
Music & Dancing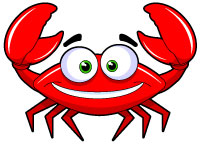 The Crab Feed was originally started by the Sacramento Area Firefighters Burn Center Committee years ago. The SAFBCC turned the event over to the Firefighters Burn Institute in 2004 and with some of the original Committee Members still serving, the Crab Feed lives on. This group of dedicated members put a lot of hard work and effort to present a first class crab feed!