The Firefighters Burn Institute was built with the dedication, dream, and working hearts of people who care and want to bring healing to those affected by the devastation of a burn injury.  Become a part of our team of passionate, gifted individuals to inspire and accomplish great things. You don't have to be rich to give your time and talents and your contribution gives healing a path to the burn community.
Firefighters Burn Institute has a group of volunteers called COMMUNITY CONNECTIONS AMBASSADORS that do great things for our organization. As an Ambassador, you will receive one two-hour training session that will equip you to be an informed and confident representative of FFBI. The Ambassadors work beside the staff at fundraising, community and corporate driven events all over the Sacramento area and beyond.  We inspire people just like you to serve, and frankly, we have fun, too!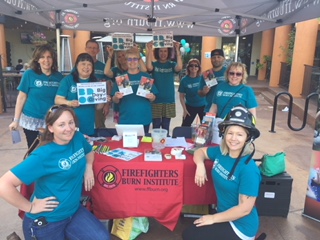 To find out how you can join this dynamic group of volunteers please contact Peri Henderson at (916) 739-8525 or peri@ffburn.org.
See you at our next event!