The Liaison Response Team provides assistance and emotional support to firefighters, their families and departments following the aftermath of a burn injury.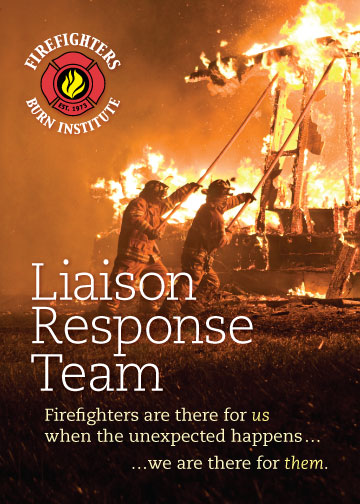 The Liaison Response Team (LRT) is made up of firefighters whose mission is to provide assistance to firefighters, their families and their department in the aftermath of a burn injury. LRT members are dedicated to the well-being and recovery of their fellow brother and sister firefighters and understand the importance of help and emotional support during critical times. The LRT also ensures the firefighter's family is taken care of through meals, housing or by making other special arrangements. The Firefighters Burn Institute provides resources to also assist with post recovery including PTSD treatment, peer support groups and funding to send the firefighter to burn survivor support conferences.
In 2017, the LRT responded to the burn unit 15 times and we have had firefighters admitted from all over the Western United States. Some were admitted for a day or two and others for much longer. As firefighters we are there when the unexpected happens… and we are there for each other.
Download SAMPLE Family Resource Binder
For more information please contact Valorie Smart at (916) 739-8525.